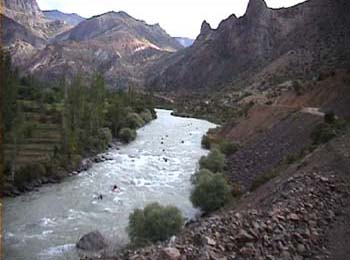 Far away from the traditional tourist resorts, in the timeless northeast lies 120km of the most thrilling whitewater. A rafter's high, a play boater's dream and definitely Europe's best. Bring it on!
Whitewater Rafting
Big waves, exhilaration, fresh air and beautiful surroundings - this is Turkey for the adventurer. Far away from the pub crawls and union jack shorts, this is the ultimate in excitement. More...
Kayak The Coruh
Raging waters, plenty of play spots and a massive continuous rush - this is the Coruh. With some of the rapids seemingly merging into one another at high water, this journey will impress and challenge even the well-travelled kayaker. More...
Turkey Facts
Location

Average Daily Temp °C (Samsun)



Precipitation in mm (Samsun)

Capital: Ankara
Language: Turkish, Kurdish, Arabic
Currency: Turkish Lira
Exchange Rate:

Time difference: GMT +2
Population: 68,109,000
Area: 300,948 sq miles
Pop density: 226 (persons per sq mile)